Road Trip Planning: What Do You Need to Make Your Vacation Truly Great?
Road trip planning, like many things in life, is harder than it looks. The fantasy is the idea of just jumping in your car and heading off to experience wonderful adventures. Any problems? They'll just turn into hilarious stories you'll be able to tell everyone.
I've been on a lot of road trips - travel is my passion - and I can tell you that it's just not that simple. Taking the time to plan your road trip can make the difference between a great vacation full of fun and adventure, and a disastrous detour down the wrong road, one you wouldn't wish on an enemy.
Road Trip Planning 101
It all started as a kid; my family loved to take road trips in our big ugly blue station wagon with brown paneling on the side. A lot of times, we'd cram two families into that station wagon and all the kids would be piled the "back-back" seat that faced backward. Between making faces at the cars behind us, telling each other jokes, and trying to make the trucks blow their air-horns, we had a blast!
Okay, some kids did throw up - I guess it's that going-backward thing.
College and my twenties were no exception, although being a driver made me appreciate all those hours my parents spent behind the wheel! I also started learning about the magic of the road, all the cool places you'd never find in a tourist guide, the unique characters you meet along the way, the funky hotels and beautiful campsites by the sea.
I learned the hard way about planning, too. Money can run out, your car can break down in the middle of nowhere, food (maple syrup in my case) can leak all over your clothes making a sticky mess. When you and your friends are pushing your car for miles to get it to a service station, you really start to rethink things.
The purpose of this road trip planning guide is to help you have a great road trip while avoiding all of the pitfalls that I had to learn about through the school of "hard knocks".


What do you need to know to plan your road trip?
There are so many things to consider when planning a road trip, especially if you want it to make it a great one. Think about it, with what little vacation time we have these days, don't you want your vacation to be the kind that you remember forever and talk about for years to come? Don't you want it to be jam-packed with good times? Without the right planning, that may not happen!
Everything you need to plan a road trip is on this site or there's a link to the resource you need. There are so many road trip planning articles and tools that it can be hard to figure out where to begin. Here are some ways to approach all the information here in a way that will best help you plan your vacation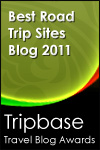 Please note that there are tons of linked articles on every page - particularly towards the bottom of each page. They include free road trip itineraries, road trip destinations, top ten lists, and much more, so don't miss out. Enjoy this road trip planning guide and get ready to plan your best road trip yet!
Road trip planner with lots of tools and articles that you'll need to make your next vacation a great one.
This road trip calculator wil help you pin down the cost of your next road trip.
A road trip can be a boring haul or a fun and exciting journey. Adding road trip games and songs to your vacation can make a huge difference.
Travel packing tips, tricks, and lists to help you with packing for your road trip. Learn how to a better all-around packer for every vacation you take.
Use these road trip recipes to make delicious meals for your next trip. Not only are you assured of the quality of your food, it saves money, too.
Whatever state you'll be visiting, there's a delicious road food waiting for you to try. Use this list of good eats for your next road trip.
Use these frugal road trip tips to save money on your next vacation. From hotels to dining out, it can add up quickly and hurt you financially.
Road trip planning is so much more than just planning your route and packing your bags. Learn about the deeper and more meaningful benefits you can reap from your vacation.
These top ten road trip destinations in the U.S. are the best because of their universal appeal, uniqueness, and the fact that they all have tons of activities and sights.
Use this listing of the greatest routes in the U.S. to plan a road trip and your vacation really will be all about the journey!
These essential tips will help you plan a road trip across the United States. A cross-country trip is the pinnacle of road trips and also the most important type of trip to plan thoroughly.
No matter the season, you want to get away from it all on vacation, and these year-round road trip ideas will get you started!
This free road trip plan plots out a great springtime trip for you. Tool down the southern coast from North Carolina to Georgia and enjoy the floral fireworks.
Get the most out of your next vacation by using these great Disney travel tips to help you save money while squeezing the maximum amount of fun out of every day in the park.
This is the Cliffs Notes version of all of my road trip vacation planning advice which has been narrowed down to some top tips for those too busy and frazzled to read much more.
These online road trip resouces are my favorites for when I plan my own trips - maybe they'll be helpful to you, too!
Learn all about me and the story of how a well-traveled office manager started her own website about road trips.
Contact me about my website, planning-fun-road-trips.com, and let me know your thoughts, suggestions or advice.
Privacy policy for Planning-Fun-Road-Trips.com
Legal disclaimer and liability information.